Why Attend This Church?
Who We Are
We are a Bible-based, family-oriented, friendly church.
When We Started
In May 1889, at Wrightsville, Arkansas, William Christian organized the Church of the Living God. Chief Bishop William Christian was inspired to preach the word of God, to encourage men to become Disciples of Christ, to promote the general welfare of the people, and to uplift humanity in general. Therefore, using the Bible as a foundation the Church of he Living God was established. There are temples of the Church of the Living God throughout the world. It is a church with a rich history.
In 1926, a local group of believers bonded together and made a request to the National Committee of the Church of the Living God to establish a Temple here in Los Angeles. Since that time, the church has continued to forge ahead with great determination, faith and spirit.
What We Believe: Articles of Faith
We believe in One true and Living God, the Creator of Heaven and Earth, and the Father of our Lord and Savior, Jesus Christ
We believe there are three persons in the Godhead, namely: the Father, the Son, and the Holy Spirit.
We believe the Jesus Christ is the Redeemer of mankind;
We believe that Jesus died, was buried, arose, and ascended into heaven;
We believe Jesus Christ to be the door to Eternal Life and we are to enter into the City through and by Jesus Christ;
We believe if any attempt is made to enter the fold of God without following Christ's instructions, we make a complete failure
and cometh before the Mighty One as a thief and a robber;
We believe there are three Sacraments ordained of Christ in the New Covenant, namely: Baptism, the Lord's Supper, and the
washing of Feet;
We believe in the Fatherhood of God and the Brotherhood of man;
We believe all are one in Christ, who does His will;
We believe we should do unto all men, as we would have them do unto us.
We believe all men are born free and equal;
We believe that the Holy Bible is the book, which points out the Way of eternal Life through obedience;
We believe to be saved, we must live by every word (pertaining to salvation) that proceedeth out of the mouth of God;
We believe the Bible from Genesis to Malachi to be a Jewish guide foreshadowing the coming of Christ.
We believe the Gospel recorded in Matthew, Luke, and John contains the plan of salvation.
We further believe that the book of Acts may be used as by-laws in part and as History of the Apostolic work.
We believe the scripture is Profitable for Doctrine, for reproof, for correction, and for instruction in righteousness, that the
man of God may be perfect, thoroughly furnished, unto all good works.
Our Spiritual Leadership Team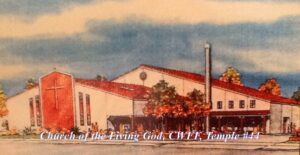 Elder William Russell Richardson, Interim Pastor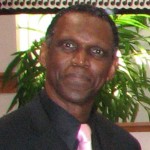 Dr. Stewart Gilbert, Associate Elder
ASSOCIATE MINISTERS:
Minister Anthony Burgin
Minister Brenda Mack
Chairman of the Trustee Board
Brother Edgar Winslow